Business Hosting – Best of both worlds. All the power of a server, without any technical pain.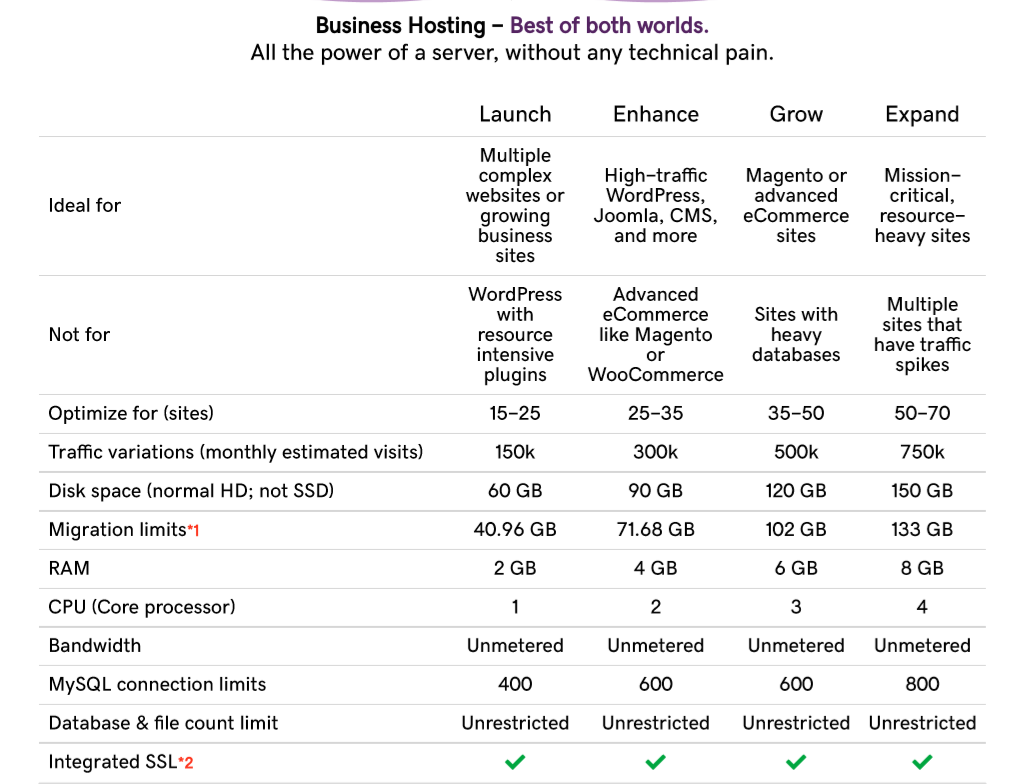 *1 Migration limits: Migration limits are the available disk space for customer content after the pre-installed approx 20GB system space comprised of the operating system, cPanel install, and additional overhead for maintenance operations (e.g. Patching).
*2 Integrated SSL: This is an SSL certificate issued by us. The SSL is installed on the primary domain name, is integrated for only one website, and is free for the life of the Business Hosting account.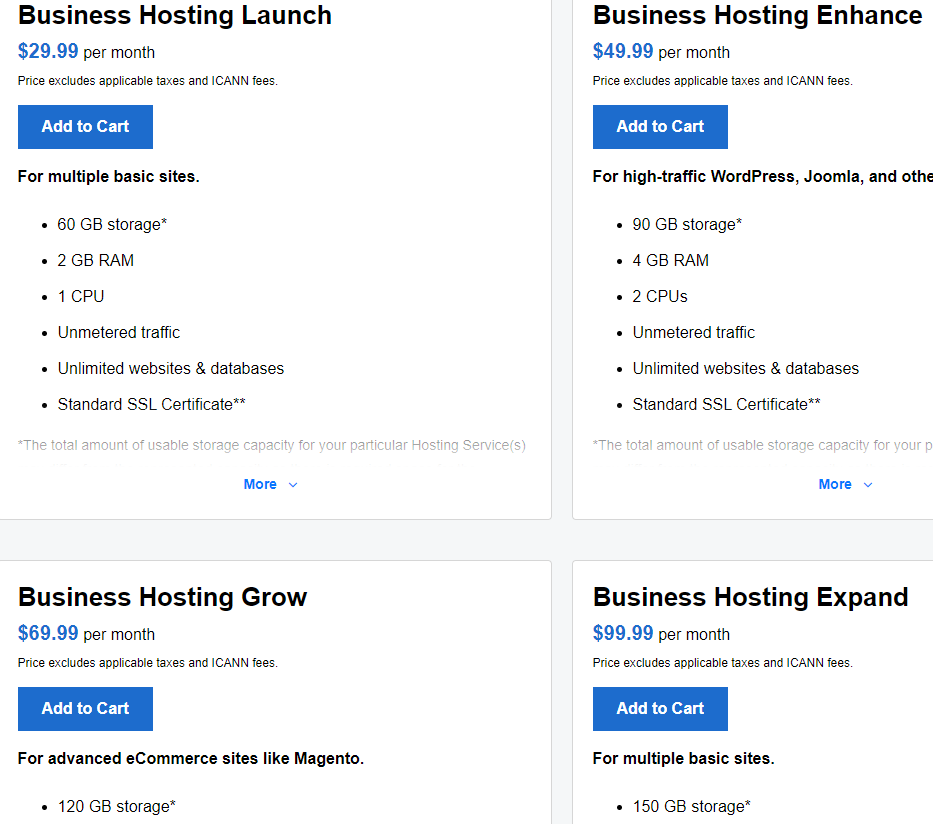 Language and Country Restrictions
Business Hosting is available to sell in all countries and languages.
What types of websites can I host on Business Hosting?
eCommerce stores (Magento, WooCommerce, PrestraShop, osCommerce, ZenCart)
Discussion Forums
Business and Service Listing websites
High definition images websites – Typically those who want to upload a portfolio of
clients' projects
Community websites
Auction websites
Heavy video websites
Heavy documents (typically PDF, DOCX, Excel sheets)
Social media applications
How is Business Hosting different from Shared and VPS?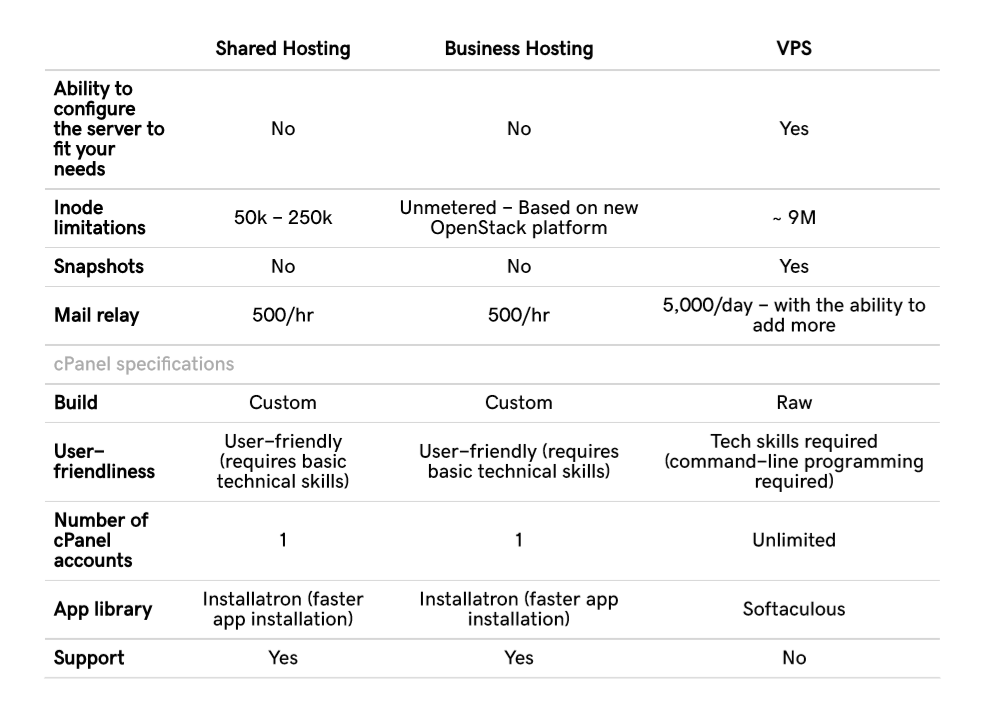 Why should you chose business hosting ?
Everyone wants their site to go viral, but if you're on shared hosting, it might not be the best experience. A spike in traDc could not only cause downtime to your website, but could also affect the other sites hosted on the shared server. If you're seeing an increase in traDc or you're considering new marketing methods (TV commercials, billboards, etc), I would recommend you move to Business Hosting.
Googlebots crawl websites daily, looking for updates to better your search listings, but if your website is down and a bot is sent to crawl during the outage, your SEO ranking will be impacted. Business Hosting will give you more resources than shared hosting, allowing for more traDc and consistent performance.
When will you need business hosting ?
Site is too slow
Site traffic is growing
Business has been making consistent improvements to your website
Site is really important to your business
Your Site performance is critical
eCommerce is an important part of your business ( Magento )
Site has many videos / photos / large files (Realtor / Photographer / Lawyer…more likely to have photos, videos, or large files)
Larger, well-established business that is re-doing their website
Existing cPanel and VPS customers need upgrade or downgrade your websites
Why existing cPanel hosting customers need business hosting ?
Your website hit or close to the allocated resource limits in shared hosting
Violated resource limits on shared hosting.
About to renew their Deluxe or Ultimate hosting (1 to 2 months left for renewal)
Need more power and performance capabilities
Need dedicated resources such as Ram/CPU/Bandwidth resources
100% uptime guaranteed, zero downtime
No DNS changes, and no work on their end to migrate.
Up to 3x faster than shared hosting
Up to 4x more processing power than shared hosting
Up to 16x more memory than shared hosting
No server administration, WHM, or command line programming skills required
Similar to cPanel experience you get now
FREE SSL with all plans
Why existing VPS customers need husiness hosting ?
Don't have server administration skills
Not familiar with command line programming
Not comfortable with WHM
Similar power and performance of VPS with easy-to-use cPanel
No server administration skills required
No complexity of server management
Save your time – don't deal with learning server administration
Similar power to VPS
Easy-to-use cPanel experience
Dedicated resources – CPU, RAM so that you get the required power and performance capabilities.
No server administration, WHM, or command line programming skills required
FREE SSL with all plans
Why Realtor / Photographer / Lawyer websites need business hosting plan ?
Extremely fast: Dedicated resources, up to 32 GB RAM. It all adds up to faster page load times than shared hosting.
Easy to use: No technical skills required here.
We've built our control panel for regular people who just happen to need ridiculously powerful hosting.
SSL included: An integrated SSL on primary domain means one less expense.
More freedom: Less limitations over shared for file count, database size, entry processes and I/O.
More power: More power and resources to run more sites and more resource intensive websites.
High performance
With Business Hosting, you get the power of VPS with dedicated RAM and CPU that contributes to the performance of your website.
Not technical? Not a problem. No server administration skills needed
Simple and easy-to-use control panel – pre-configured cPanel
Shorter learning curve
No WHM or command programming line skills required
One-click upgrade – simplified migration
For existing Business Hosting or cPanel Shared Hosting customers
Growing and scaling your resources is now easier with a one-click upgrade process.
You don't have to go through the cumbersome migration process as your website grows in the future.
Moving from cPanel Shared Hosting to Business Hosting is easy. It's just a one-click upgrade process.
There won't be any downtime during migration, you don't have to uninstall and reinstall all the files again, and you don't even have to update the DNS.
Business Hosting FAQs
The price is higher than shared hosting ?
More growth demands more security and performance. The more your website grows, the more you'll need built-in security, dedicated resources, more RAM and CPU power, and you won't have to worry about bad neighbor effects (If a website that's hosted on the same environment as your site goes viral, it can affect your site's performance).
What kinds of Support do you have ?
You will get the similar premium level support as Shared Hosting and there are no management levels here as you have in VPS.
Can I buy business hosting plan if I don't have WHM or command line programming skills ?
With Business Hosting you get the power of VPS with the easy to use cPanel. You don't really need to deal with server management complexities and you will be really comfortable with our pre-configured cPanel which is specifically designed to provide best-in-class user experience for non-tech customers.
What is Business Hosting?
If your website is growing, it's only a matter of time before you'll need more power than shared hosting can provide.
Business Hosting delivers the same power and performance as a Virtual Private Server (VPS) without the pain of server administration.
You get all the RAM, CPU and bandwidth you need without having to hire an IT pro to manage your server.
Can I upgrade seamlessly from cPanel Shared Hosting to Business Hosting?
Yes. As your website grows at a fast pace, we recommend moving to Business Hosting to give you dedicated resources which help keep your website running smooth.
This is just a one-click upgrade process if you already have cPanel shared hosting.
There won't be any downtime during the migration.
You don't have to uninstall and reinstall all the files again.
Also, you don't have to update the DNS!
What if I outgrow my Business Hosting plan…can I upgrade between Business Hosting plans?
Yes. The process is seamless and you get the freedom to scale to any plan you want without any downtime while moving to the next plan.
You can also go to a VPS if needed. The 'Import Site' option in the server dashboard can be used to import cPanel and Business Hosting accounts.
What level of support do I get with Business Hosting?
You get the similar support you are used to with Shared Hosting. You get 24/7/365 support from our customer care group.
Can I host multiple websites/domains on Business Hosting…and if so is there a limit?
Yes, you can host unlimited domains on Business Hosting. You can also host an unlimited number of websites on Business Hosting.
Which default email service do I get?
cPanel default email. You can create multiple email ids on this default email service for free.
I'm using email within my shared cPanel hosting. Will I lose my mail if I migrate to Business Hosting?
Nope. Those will be transferred over as well as long as you are using cPanel default email.
Does this migration from shared to Business Hosting move over all of the cPanel emails and their contents as well?
Yes it does, but there are use cases in this:
If a customer uses cPanel default email in shared and they continue to use the same in Business Hosting, the content would be moved automatically.
What relay servers does Business Hosting's system use: Shared Hosting or the same as our VPS/Dedicated Servers?
Same relay servers as Shared Hosting.
What version of PHP and MYSQL do I get?
PHP 7.1 and 7.0
MySQL 5.6 to support Magento, WooCommerce and several CMS use cases
Can I change the PHP versions?
Yes you can change it through cPanel.
Can I add multiple dedicated IP addresses?
No. Adding multiple IP addresses would require access to WHM, which they don't get with Business Hosting because this product is made for simplicity.
What are the inode limitations on each Business Hosting plan?
All plans are unmetered
Does the operating system take up disk space?
Yes
Do we have plans to do Windows Business Hosting?
No
Is the IP shared or dedicated?
There's one dedicated IP per account which can be shared between all sites on that account. There is not an option to add more IP addresses.
Can you downgrade?
Yes. This is handled by an automatic migration on the back-end.