Most Popular Web Hosting Solutions – Managed WordPress Web Hosting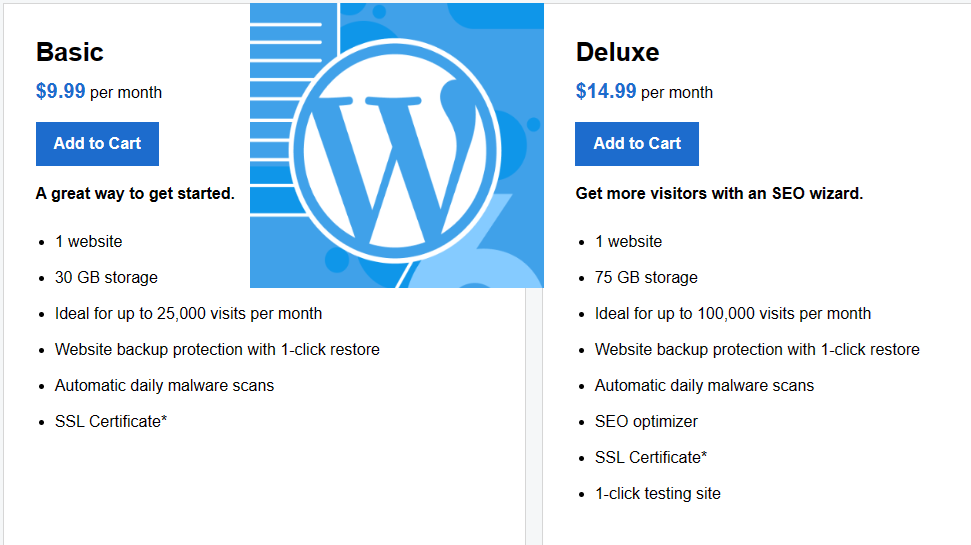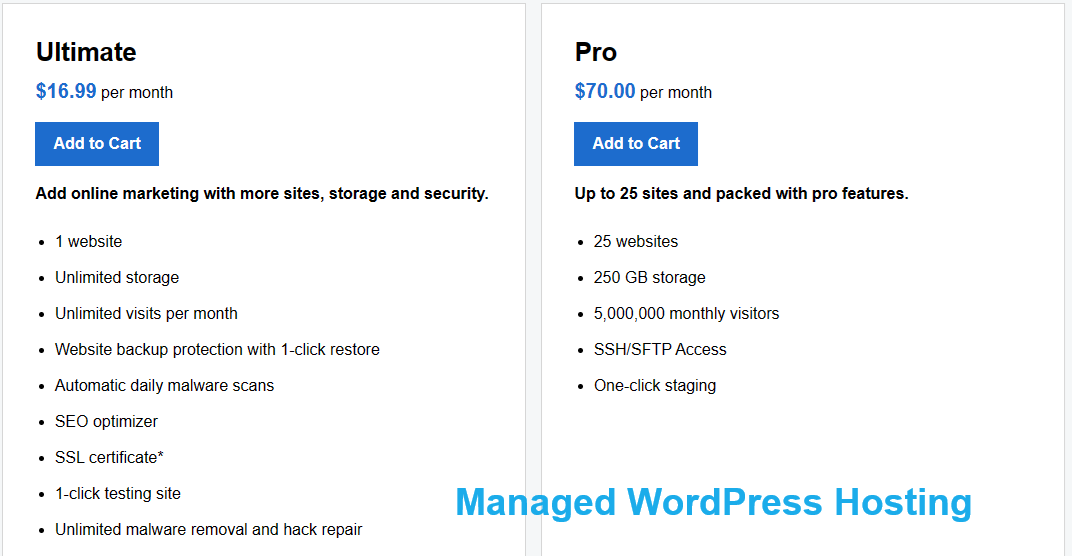 We Provide Five Basic Types of Hosting
Managed WordPress Hosting – This is the most popular web hosting we provide. Your websites have no chance to be hackered, and you have the best and the fastest websites and easily designed.
Web hosting (Shared) – Shared web hosting service refers to a web hosting service where many websites reside on one web server connected to the Internet. This is generally the most economical option for hosting, as the overall cost of server maintenance is amortized over many customers. We provide Cpanel Shared Linux Web Hosting from $2.99/mo. We are the cheapest shared web hosting provider.
VPS Web Hosting Service – If shared web hosting is like an apartment complex, VPS is more like a townhome. You'll enjoy upgraded resources AND you'll be sharing them with much fewer people. This gives you more power, flexibility and control. We provide the cheapest Linux VPS hosting with Cpanel/WHM and Plesk as control panel from $30.99/mo.
Web Hosting Plus – This is for the guys who have no technical skills and VPS is not suitable for them. gives you the ultra-fast speed of a Virtual Private Server with a super simple control panel — a perfect fit for those who don't have tech skills but still need powerful hosting. All plans include one-click install, 99.9% uptime, 24/7 security monitoring, daily backups, and an easy-to-use control panel.
Dedicated Server – This is exactly what it sounds like – a single-tenant virtual machine that's dedicated to you and you alone – which makes it the ultra-modern single family home in our analogy. It's the most costly option, but only high-traffic, resource-intensive websites really need it. Get full control with root access while enjoying powerful bare metal servers and flexible SSD or HDD storage configurations. You must have your own administrator to run your dedicated server.
What Are the Benefits of Managed WordPress Hosting?
Managed WordPress hosting offers several benefits for individuals and businesses using WordPress as their content management system (CMS). Here are some key advantages:
Performance Optimization:

Managed WordPress hosts are optimized specifically for the WordPress platform. This includes server configurations, caching mechanisms, and other optimizations to ensure faster loading times and improved overall performance.

Security:

Managed WordPress hosting providers often have robust security measures in place. This can include regular malware scans, firewalls, and security protocols to protect your website from potential threats. Some providers also offer automatic WordPress updates to patch security vulnerabilities.

Automatic Backups:

Regular backups are crucial for website security and recovery in case of data loss. Managed WordPress hosting services typically offer automated daily backups, ensuring that your website's data is regularly and securely stored.

Scalability:

Managed WordPress hosting plans are designed to handle the specific needs of WordPress websites. As your website grows, these hosts often provide easy scalability options, allowing you to upgrade resources such as CPU, RAM, and storage space without significant downtime.

Expert Support:

Managed WordPress hosting usually comes with dedicated customer support that has expertise in WordPress. This support can assist with WordPress-specific issues, answer questions about plugins and themes, and help troubleshoot any problems related to the hosting environment.

Automatic Updates:

Managed hosting providers often take care of core WordPress updates, plugin updates, and theme updates. This helps ensure that your website is running on the latest and most secure versions of software.

Content Delivery Network (CDN) Integration:

Some managed WordPress hosting plans include integration with a CDN. A CDN can improve your website's loading times by distributing content across servers located in different geographic regions, reducing latency for users.

Managed Back-End:

The hosting provider takes care of server-side tasks, allowing you to focus more on creating content and managing your website. This includes server maintenance, security, and performance optimizations.

Staging Environments:

Many managed WordPress hosts offer staging environments, allowing you to test changes, updates, or new features in a separate environment before pushing them to the live site. This helps prevent potential issues on the production site.

Integrated Tools and Features:

Managed WordPress hosts often provide additional tools and features designed specifically for WordPress users. This may include one-click installations of WordPress, website analytics, and other management tools.
Why you Should Choose Web Hosting Plus (Business Hosting) ?
Need more speed and resources with an easy-to-use cPanel dashboard? Business Hosting is for you. Includes free Office 365.
Tech skill required: Mid-level
Recommended for: Business websites that have outgrown web hosting.
Business Hosting is a type of cPanel hosting that is more powerful than shared hosting. With Business hosting, you can get the power and resources of your own private server, without needing the experience of a server administrator. It is the same cPanel experience that you are used to with shared hosting, but with the power of a Virtual Private Server (VPS) behind it.
You can use this chart to see the major differences between each type of cPanel hosting.
| | | | |
| --- | --- | --- | --- |
| | Shared Hosting | Business Hosting (Web Hosting Plus) | VPS Hosting |
| Suited for | Basic websites, low resource applications | E-commerce, high traffic or data-intensive sites and applications | Resource intensive web apps, full control of the server, ability to customize |
| Platform | LAMP (Linux, Apache, MySQL, PHP) | LAMP (Linux, Apache, MySQL, PHP) | LAMP, with the ability to install and use others (e.g. NGINX, Node.js, Ruby on Rails) |
| Level of technical skills | Basic | Basic | Advanced – knowledge of WHM and Linux command line needed |
| Site Visitors | Low to moderate | High | High |
| Control Panel | cPanel | cPanel | cPanel and WHM |
| Support | 24/7 Standard Support | 24/7 Standard Support | Self-Managed, Managed, or Fully-Managed |
| Root Access | No | No | Yes |
| Dedicated IP Address | No | 1 | 3 or more |
| Snapshot Backups | No | No | Yes |
| Price From ($/mo) | 2.99 | 30.99 | 5.99 |
| Click for Detail | Detail… | Detail… | Detail … |
Do I Need Linux Hosting or Window Hosting ?
If you've already decided you need a hosting account, you might get slipped up when you get asked, "Linux or Windows?" Fortunately, there isn't a big difference between them and either type of account works for most customers. To make sure you do get the right type of account, though, you should choose the type of hosting account you want based on how you're building your site.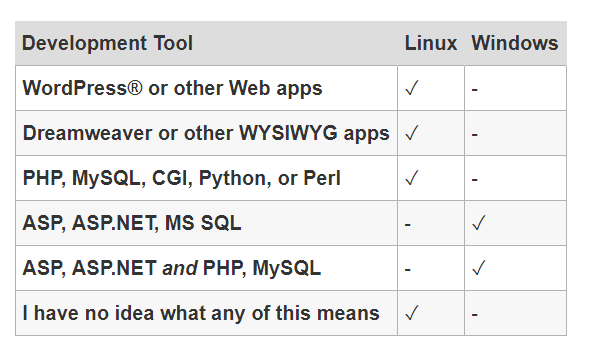 It's important to note that these are just our recommendations. Windows accounts will actually support most of these development tools, but Linux hosting best fits most customers hosting needs.  The major resource for using Windows server is for your website to run Microsoft software like Access and MS SQL. Web developers for windows will be given full use of the programming ecosystems that's sponsored by Microsoft such as MS Index Server and VB Scripts.
For the development tools support of window hosting and linux hosting comparation, please check following fig: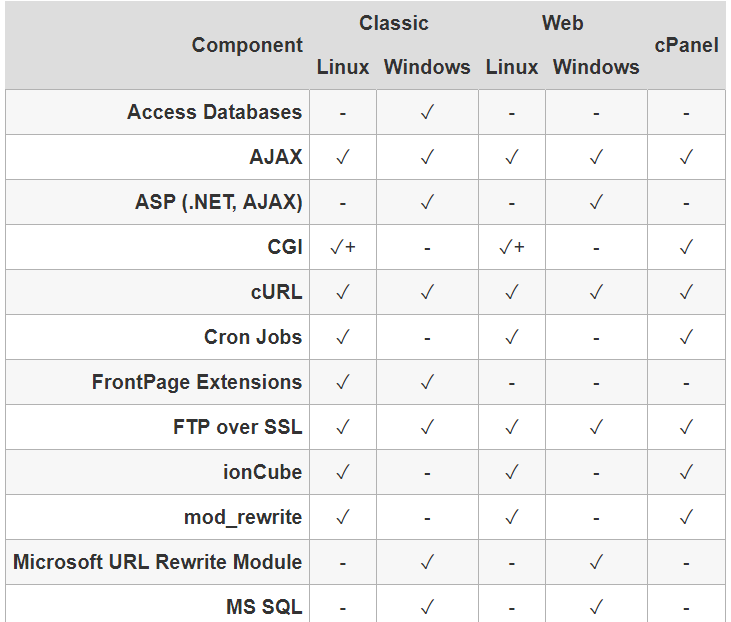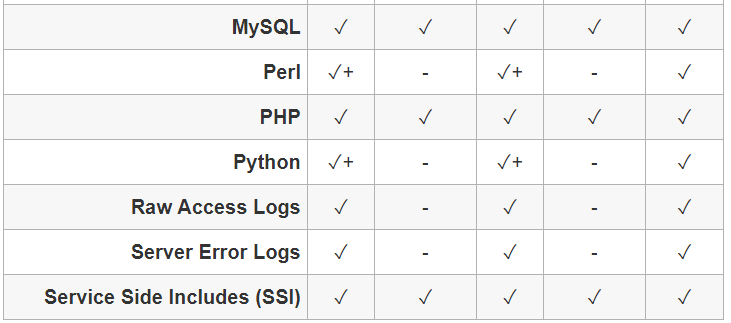 You Can Order your cPanel Hosting Now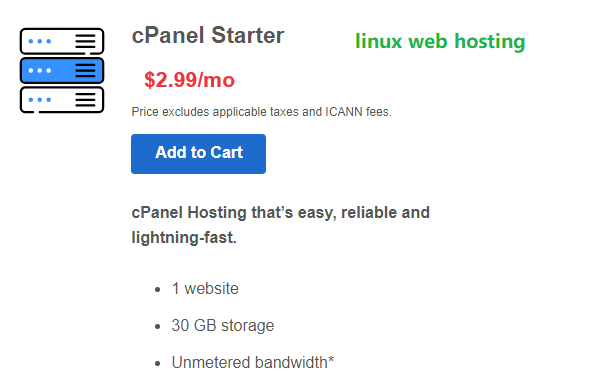 What Are the Benefits of cPanel Hosting ?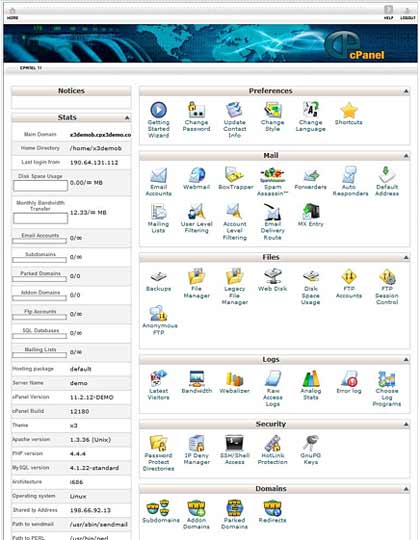 cPanel hosting refers to web hosting services that utilize cPanel as the control panel for managing various aspects of website hosting. cPanel is a popular and user-friendly control panel that offers a range of features and tools to simplify the management of web hosting. Here are some benefits of using cPanel hosting:
User-Friendly Interface:

cPanel provides an intuitive and user-friendly graphical interface, making it easy for users, including those without extensive technical knowledge, to manage their hosting accounts, domains, files, databases, and other aspects of their websites.

Website Management:

Users can easily manage and organize their websites, including creating and managing email accounts, domains, subdomains, FTP accounts, and databases, all through a centralized interface.

File Management:

cPanel includes a file manager that allows users to upload, download, and manage files directly from the control panel. This is particularly useful for users who want to upload or modify website files without using FTP clients.

Database Management:

Users can create and manage databases, set up users, and configure database settings directly through cPanel. Popular database management systems like MySQL are commonly integrated with cPanel.

Security Features:

cPanel provides various security features, such as SSL/TLS management, IP blockers, and password protection. It also offers tools like HotLink Protection to prevent others from linking directly to your website's files.

Automated Backups:

Many cPanel hosting providers offer automated backup solutions. Users can schedule regular backups of their website data, ensuring that they have a recent copy available in case of data loss or website issues.

One-Click Installations:

cPanel often includes tools like Softaculous or Fantastico, allowing users to install popular web applications, content management systems (CMS), and scripts with just a few clicks. This simplifies the process of setting up a variety of web applications.

Email Management:

cPanel offers comprehensive email management tools, allowing users to create and manage email accounts, set up email forwarding, configure spam filters, and access webmail interfaces.

Resource Monitoring:

Users can monitor their website's resource usage, such as bandwidth and disk space, through cPanel. This helps users stay informed about their hosting account's performance and resource consumption.

Customization and Branding:

Hosting providers can customize cPanel interfaces to match their branding, providing a cohesive experience for users. This is particularly beneficial for hosting companies that want to present a unified brand image to their customers.

Support and Documentation:

cPanel has a large community and extensive documentation. Users can find support forums, tutorials, and documentation to troubleshoot issues or learn more about utilizing specific features.