Most Popular Web Hosting Solutions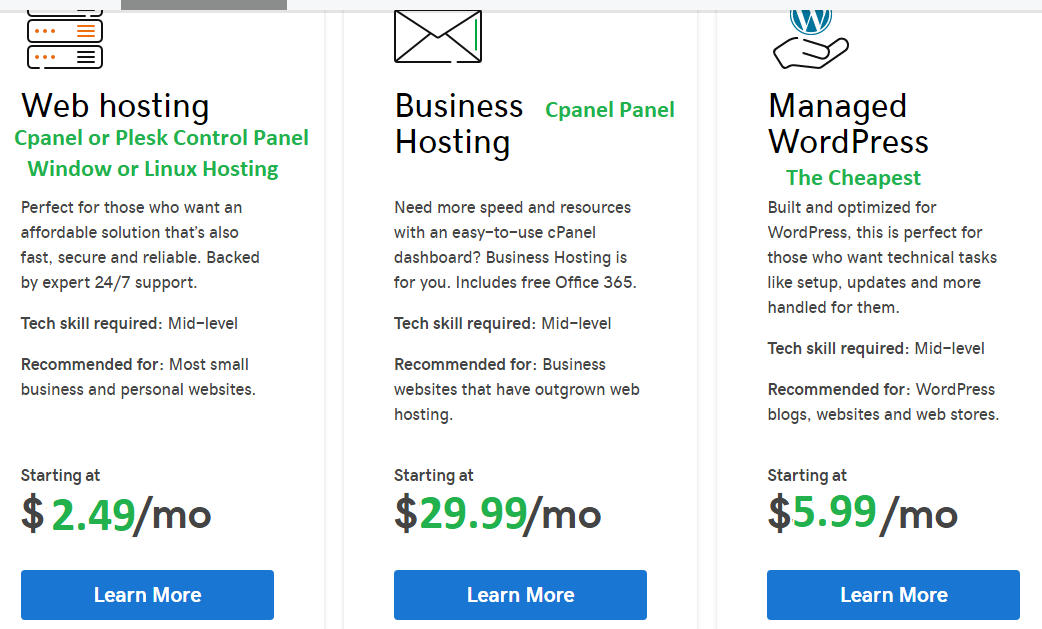 We provide three basic types of hosting
Web hosting (Shared) – Shared web hosting service refers to a web hosting service where many websites reside on one web server connected to the Internet. This is generally the most economical option for hosting, as the overall cost of server maintenance is amortized over many customers. We provide Cpanel Shared Linux Web Hosting from $2.49/mo and Shared Plesk Window web hosting service from $2.49/mo. We are the cheapest shared web hosting provider.
VPS Web Hosting Service – If shared web hosting is like an apartment complex, VPS is more like a townhome. You'll enjoy upgraded resources AND you'll be sharing them with much fewer people. This gives you more power, flexibility and control. We provide the cheapest Linux VPS hosting with Cpanel/WHM as control panel from $29.99/mo and the cheapest Window VPS hosting service with Plesk as control Panel from $39.99/m.
Dedicated Server – This is exactly what it sounds like – a single-tenant virtual machine that's dedicated to you and you alone – which makes it the ultra-modern single family home in our analogy. It's the most costly option, but only high-traffic, resource-intensive websites really need it. You must have your own administrator to run your dedicated server. We provide dedicated server from $129/mo
Why you should chose Business Hosting ?
Need more speed and resources with an easy-to-use cPanel dashboard? Business Hosting is for you. Includes free Office 365.
Tech skill required: Mid-level
Recommended for: Business websites that have outgrown web hosting.
Business Hosting is a type of cPanel hosting that is more powerful than shared hosting. With Business hosting, you can get the power and resources of your own private server, without needing the experience of a server administrator. It is the same cPanel experience that you are used to with shared hosting, but with the power of a Virtual Private Server (VPS) behind it.
You can use this chart to see the major differences between each type of cPanel hosting.
| | | | |
| --- | --- | --- | --- |
| | Shared Hosting | Business Hosting | VPS Hosting |
| Suited for | Basic websites, low resource applications | E-commerce, high traffic or data-intensive sites and applications | Resource intensive web apps, full control of the server, ability to customize |
| Platform | LAMP (Linux, Apache, MySQL, PHP) | LAMP (Linux, Apache, MySQL, PHP) | LAMP, with the ability to install and use others (e.g. NGINX, Node.js, Ruby on Rails) |
| Level of technical skills | Basic | Basic | Advanced – knowledge of WHM and Linux command line needed |
| Site Visitors | Low to moderate | High | High |
| Control Panel | cPanel | cPanel | cPanel and WHM |
| Support | 24/7 Standard Support | 24/7 Standard Support | Self-Managed, Managed, or Fully-Managed |
| Root Access | No | No | Yes |
| Dedicated IP Address | No | 1 | 3 or more |
| Snapshot Backups | No | No | Yes |
| Price From ($/mo) | 2.49 | 29.99 | 29.99 |
| Click for Detail | Detail… | Detail… | Detail … |
Do I need linux hosting or window hosting ?
If you've already decided you need a hosting account, you might get slipped up when you get asked, "Linux or Windows?" Fortunately, there isn't a big difference between them and either type of account works for most customers. To make sure you do get the right type of account, though, you should choose the type of hosting account you want based on how you're building your site.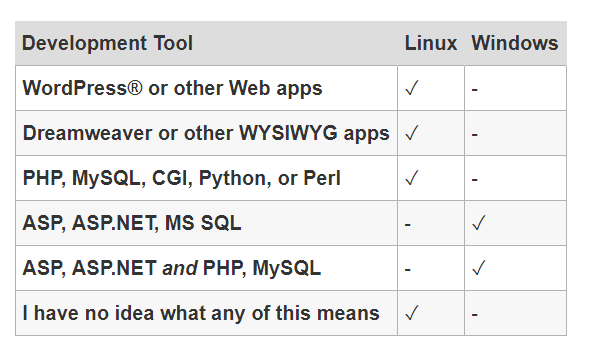 It's important to note that these are just our recommendations. Windows accounts will actually support most of these development tools, but Linux hosting best fits most customers hosting needs.  The major resource for using Windows server is for your website to run Microsoft software like Access and MS SQL. Web developers for windows will be given full use of the programming ecosystems that's sponsored by Microsoft such as MS Index Server and VB Scripts.
For the development tools support of window hosting and linux hosting comparation, please check following fig: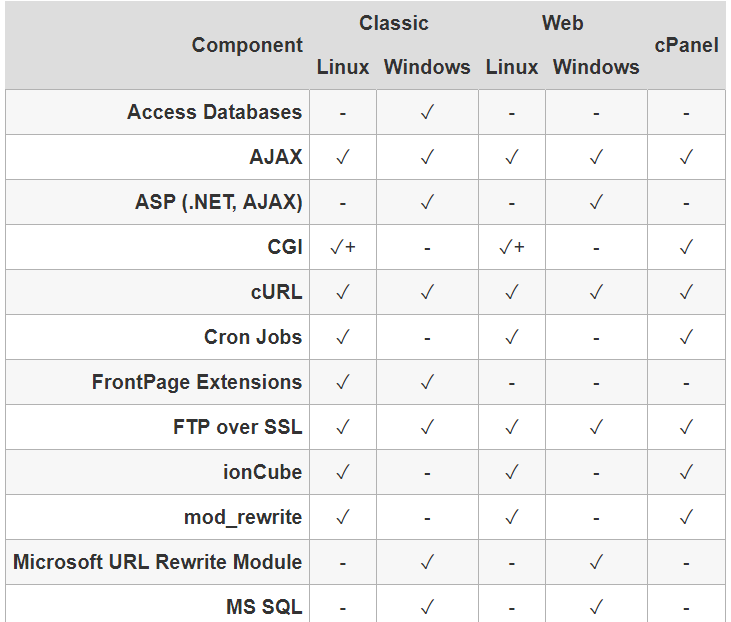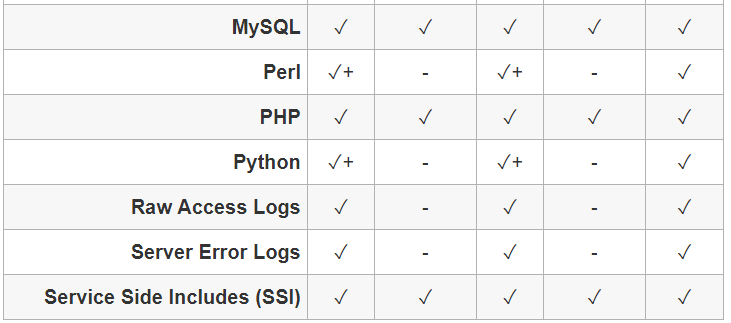 You can order your cPanel Hosting or Window Plesk Hosting now