We provide the cheapest cPanel web hosting services
Cpanel Hosting Plan
Starter
Economy
Deluxe
Ultimate
Websites
1
1
Unlimited
Unlimited
Subdomains
25
25
Unlimited
Unlimited
Storages (GB)
30
100
Unlimited
Unlimited
Traffic
Unmetered
Unlimited
Unlimited
Unlimited
FTP Users
50
50
50
Unlimited
Email Accounts
10
100
500
1000
MySQl (1GB each)
1
10
25
Unlimited
Concurrent connection limit
115
115
115
140
database backup/restore
YES
YES
YES
YES
Direct database access
YES
YES
YES
YES
Compatible with Website Backup (Paid Option)
YES
YES
YES
YES
2X Processing power and memory * 7
YES
SSL Certificate
YES
Month Fee
$2.49
$5.99
$8.99
$16.99
Extra Features
2X Memory and Power
Premium DNS, Free SSL
Notes:
Unmetered bandwidth: We don't limit the amount of bandwidth your site can use as long as it complies with our Hosting Agreement. Should your website bandwidth present a risk to the stability, performance or uptime of our servers, we will notify you via email and you may be required to upgrade, or we may restrict the resources your website is using. It's very rare that a website violates our Hosting Agreement and is typically only seen in sites that use hosting for file sharing or storage
cPanel Mailboxes: All cPanel plans allow POP 3 accounts, SMTP and IMAP. The mailbox quota counts towards the hosting account's Disk Space usage.
2X Processing power and memory: Available resources: Ultimate Plan 2 CPUs, 1 GB RAM, 125 Entry processes Economy & Deluxe 1 CPU, 512 MB RAM, 100 Entry processes
Our virtual Cpanel Web Hosting plan can meet all your needs. We are the cheapest cpanel linux web hosting provider. We have Standard Web Hosting plan which can host unlimited web space and unlimited bandwidth at only $2.49/m. Unlimited website and Unlimited web space, Unlimited Bandwidth only Needs $5.99 per month.
For more Cpanel Linux web hosting plan comparison, please check this link.
All Linux Cpanel web hosting Plans Include:
World-class data centers and Word-Class support Teams

Best-of-Breed routers, firewalls and servers

FREE

email addresses
99.9% uptime guarantee
One-click install of free applications
Unlimited Monthly Bandwidth
Flexible, easy to use control panel (cPanel )
1 GB storage MySQL linux databases
NO hidden fees
24/7 security monitoring and DDoS protection
All Web hosting accounts are placed in our cloud servers.
DDoS attacks and other security threats are a major pain for popular website owners and to counter this ordeal, we provides all the plans with 24/7 security monitoring and DDoS protection services.
The Cpanel Linux control panel includes:
CONTROL PANEL

cPanel
Softaculous
RVSiteBuilder
File Manager
FTP Manager
Website Statistics
Custom Error Pages
EMAIL FEATURES
SMTP/POP3 Accounts
IMAP Support
WebMail Access
Auto responders
Mail Forwarding
SpamAssassin
Alias
Addon Domains
Directory Privacy
Disk Usage
Redirect
Simple and Advanced Zone Editor
Subdomains
Metrics and Analysis
Cron Jobs
TRack DNS
Apache Handlers

DATABASE & MULTIMEDIA SUPPORT

MySQL 5.1.x
Host Unlimited DBs
phpMyAdmin Access
Windows Media Compatible
Flash / Shockwave
Real Audio/Video Compatible

PROGRAMMING SUPPORT

PHP 5.3.x
Perl 5.8.8, Ruby on Rails
Python, SSI, CGI, Fast CGI
Curl, CPAN
Zend Optimizer
GD Library, ImageMagick
Ruby on Rails

SECURITY FEATURES

Daily Backups (7 Days Retention)
Password Protected Directories
Hotlink Protection
IP Deny Manager
Shared SSL
Private SSL (Optional)
IP Blocker
Powerful hosting made easy
With its user-friendly control panels featuring cPanel®, our Hosting puts you in charge. And thanks to our award-winning data centers, lightning-fast load times and 24/7 monitoring, you know your site will always be safe, secure and online – guaranteed*.
Award-winning security keeps your site safe
Keeping a website secure is a full time job. That's why our security team is on the job 24/7, monitoring your site for suspicious activity and protecting it against brute force and DDoS attacks.
What is Web Hosting?
Make sure friends, family and customers can see your website.
Hosting is what makes it possible for others to view your website over the Internet. Without it, you're the only one who will ever get a look. POWERHOSTER.COM serves up…
One-click set-up
Unlimited storage and bandwidth
Scalability to fit your needs
24/7 secure monitoring
We use industry-standard control panels giving you the flexibility to choose the platform that works best for your needs. Choose from cPanel for Linux or Parallels Plesk for Windows. If you plan on using a Web application to blog, podcast, or create a shopping cart and you are working with a designer or developer to build your site, check to see what operating system the application needs (Linux or Windows) or what software language will be used, before purchasing your hosting account.
cPanel for Linux
Each Linux plan includes:
cPanel: Access all the hosting features and settings you need with this industry-standard control panel.
CloudLinux: Keep your site online with truly balanced CPU, RAM and Disk IO limits.
CageFS: Protect your Web content 24/7 with this virtualized file system.
Free Applications: Instantly install over 150 applications on your website with just a few clicks.
Choose Linux if you're going to use PHP, Perl or CGI scripting. Our Linux accounts use a MySQL database.
What is Linux Web Hosting ?
Although estimates vary, Linux – the most common type of Unix – is generally accepted to have an overwhelming majority over Windows servers. It's no fluke: Google uses more than 15,000 Linux servers to serve up its content.
Why is Linux so popular when it comes to web hosting?
Linux is an open source operating system. It can be installed for any purpose free of charge.
The same is true for three key pieces of software needed to serve a website:
Apache, Linux's leading Web server application
MySQL, the most prominent database application
PHP, the most popular scripting language
Large hosts want to push Linux because there are no licensing costs to cover, so they can drop prices and aim for bigger profits. The only thing that needs to be paid for is the control panel tool, if the host chooses to offer one.
The cost angle also applies to hardware. Linux is arguably the best operating system for slower machines. Hosts can use older servers with Linux and get more use out of aging equipment. With the technology development, more and more new servers with large storage and high speed CPU are added into our data centers.
Why is cPanel So Popular?
cPanel is a Linux-based web hosting control panel that provides a graphical interface and automation tools designed to simplify the process of hosting a web site. cPanel utilizes a 3 tier structure that provides capabilities for administrators, resellers, and end-user website owners to control the various aspects of website and server administration through a standard web browser.
In addition to the GUI, cPanel also has command line and API-based access that allows third party software vendors, web hosting organizations, and developers to automate standard system administration processes.
The cPanel control panel was originally developed for a web hosting company hat offered Linux hosting. It allowed hosting customers to manage elementary parts of their hosting service, such as their FTP logins and email addresses. The software has evolved over 15 years and outlived a spinoff product, WebPanel, thanks to its friendly user interface and simple navigation.
There are a few big bonuses for hosts that deploy cPanel:
They can distribute generic help documentation and don't need to develop as much help in-house
Customers can transfer their knowledge when moving from host to host
cPanel stops web hosting customers from doing anything risky or prohibited
WHM and cPanel work beautifully together, so the host can use the combination of both on server based hosting accounts, giving users a consistent experience
WHM and cPanel are secure if properly managed
Hosting customers like cPanel because:
It's super easy to navigate
The experience is the same on almost every host
Technical tasks have a very simple graphical interface
Built in help stops you from doing anything you shouldn't do
You spend more time on your website, and less on the admin behind it
It can do all kinds of things you wouldn't expect
cPanel can also be used as a platform for bolt-ons. The most common is Fantastico, a script library that offers hundreds of applications for one-click install. Fantastico takes all the hassle out of setting up and deploying applications like WordPress, phpbb, Joomla and OScommerce.
What is the Benefits of Cpanel Hosting ?
1. Easily to Browse and Management – Customers like it and easy to use. cPanel offers a easy to use client-side and admin-side interfaces.  It is extremely easy to browse,  with an icon-based menu on the main page,  linking the user to the important features which the control panel can offer.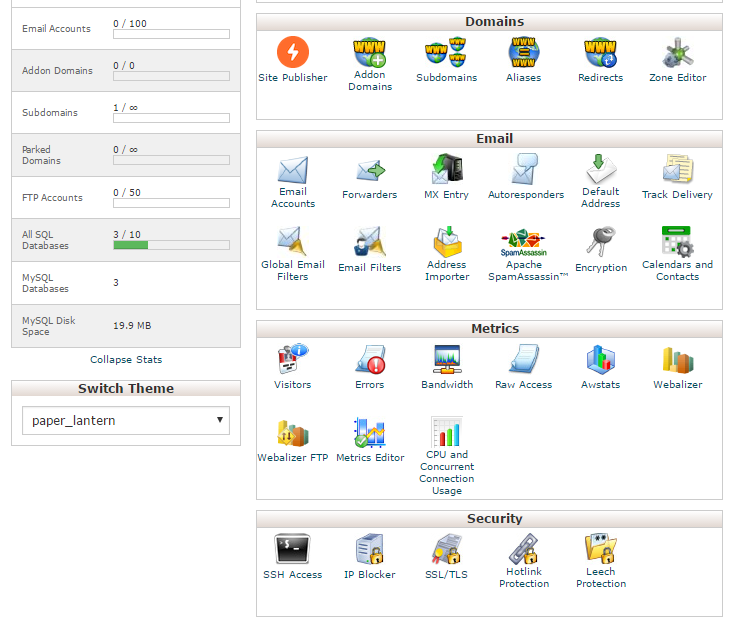 2. Cpanel is widely used in almost all linux operating system Cpanel can be used in Wide array of supported operating systems,  including Redhat,  Free BSD,  CentOS,  Fedora,  Debian, and Trustix. Almost all web hosting company can provide Cpanel Web Hosting service. Linux Operation is the stable system, and it will be used in Windows and Mac OSX operating systems too.
3. Almost all Webmasters and Website admin like it – Almost all webmasters know Cpanel. cPanel is the No.1 web hosting control panel in the whole web hosting control panel industry.  All webmasters know Cpanel is stable control panel and can block some bad attacks for both spammers and hackers.
4. Cpanel control panel is cheap. – Cpanel Control Panel has relatively low-cost solution. Normally web hosting provider can provide the webmasters free cpanel for their shared web hosting account and even VPS account. HHM/cPanel can be added to servers,  in most cases,  for as low as $25.00/month. But here in powerhoster, we provide Cpanel/whm freely to all VPS and Dedicated Server customers.
5. Cpanel Web Hosting is cheap Cpanel web hosting control panel is very easy to manage. It can even divide the server into unlimited web sites. All websites share the same cpanel/whm control panel with one license that bought by web hosting provider. So the cpanel web hosting can be very cheap. Cheap web hosting is good but not for all websites, and we will tell you the reasons in cheap web hosting webpage.
6. There are a lot of Addons in Cpanel Control Panel – So many Advanced features are in cpanel, cPanel PRO, Fantastico, website automatically installed, content websites are created automaticall. cPanel has made it easy to incorporate third-party applications into their control panel software.  The most popular cPanel addon is,  without a doubt Fantastico,  developed by Netenberg.  Fantastico is an auto installer program,  which allows the hosting client to set-up scripts from a library of over 50 within seconds. cPanel PRO is an addon for the cPanel control panel,  released and developed by cPanel,  Inc.  cPanel PRO offers various addons to the control panel,  including a built-in support submission form.
7. A lot of Advanced Features – such as Cron Jobs, Track DNS, Indexes, Error Pages, Apache Handlers, MIME Types. You can run this features loooks like you are one developer. All webmasters are developers when they run Cpanel Advanced Features such as you can run your software or command in a fix time or during a certain of times, or make you index page shown or not shown to your website visitors.
8. Cpanel Control Panel is very easy to Install – It only needs the Linux system environment with a minimum of 266 MHZ, at least 512 MG RAM and at least 10 GB available disk space. Almost all VPS and dedicated servers can meet this requirement and it is also very easy to install and configuration.
9. Cpanel Software updated automatically or just one button click- This feature is especially good for server administrator. cPanel can releases updates to their software very often. A lot of server administrator can receive emails from Cpanel company and the company can even email server admin the support request from your server's webmasters. With the automatically updating, cPanel makes itself the biggst control panel and a quality control panel in the whole hosting industry.
10. cPanel comes with three-level structures which improve the management security. Besides, it also provides Password protect directories to restrict to certain parts of your websites, allows you to manage SSL/TLS keys, certificates and signing requests, and connects to server remotely.
Linux web hosting with cPanel
We are sure the Best Cloud Hosting around. We know how to balance the server load when the server needs more RAM and maxes out CPU speed. Our file manager, domain manager and database manager are all the latest in the industry. Our online file managers are very flexible, although it does not do everything for you, it is extremely appealing to the eye and is equipped with more than enough features.
We are professionals at helping beginners set up their website easily and offer additional site creation tools for advanced developers. All of our solutions support several programming languages, including CGI (Python and Ruby), PHP, Perl, ASP, MySQL, ColdFusion and FrontPage extensions.
Email Management Tools
| | |
| --- | --- |
| Account Manager | Add, Remove email accounts, change password and view all your account email space usage. |
| POP3/IMAP | Create your own email accounts. |
| Webmail | Access your POP/IMAP email accounts through your web browser. |
| Catch-All Email Box | Send all un-routed email to a selected email account or fail it. |
| Incoming Email Forwarding | Setup incoming email forwarders. |
| Outgoing Email Forwarding | Setup outgoing email forwarders for archiving or monitoring. |
| Auto Responders | You can send a pre-defined response automatically. |
| Spam Control (SpamAssassin) | Helps you cut down the spam sent to your inbox. |
| Account level and User level email filtering | Create email filters with custom rules. |
| MX entry modifier | Set additional mail relayers, use dedicated email servers (external). |
| Email Archiving | Archive all your incoming and outgoing emails. |
Backup
| | |
| --- | --- |
| Full Backup | Perform full backup of account (Email, Web, Database, Email filters, Email alias). |
| Home Backup | Download backup of home directories. |
| Email Forwarder Backup | Download a copy of your Email alias. |
| Database Backup | Backup of individual database. |
Database
| | |
| --- | --- |
| Manage MySQL Databases | Create or delete MySQL databases. |
| Manage MySQL Users | Create, delete or change password for MySQL users. |
| Database Data Manager (phpMyAdmin) | Manage your database tables structures and data |
Site Management Tools
| | |
| --- | --- |
| Control Panel (cPanel) | Powerful control panel for you to manage your hosting account. |
| .htaccess | Fully manage your sites .htaccess file from your control panel. |
| phpMyAdmin | Manage your mySQL databases. |
| File Manager | Upload files through our online file manager. |
| Sub-Domains | Create sub-domains i.e. http://subdomain.yourdomain.com, or redirect them to other webpages. |
| Parked-Domains | Parked additional domains on top of your existing website. |
| Addon-Domains | Use a single webhosting account to host multiple domains. Each domain having its own web folder/directory, or redirect them to other webpages. |
| Web Protect | You can add password protection to folders within your website. |
| Custom Error Pages | Customise your error pages, 401, 403, 404, and 500. |
| Cron Jobs | Automate tasks with cron jobs. |
Analysis & Log Files
| | |
| --- | --- |
| Website Statistics | View detailed statistics about your website. |
| Bandwidth Usage | View a graphical bandwidth table. |
| Raw Access Logs | Download your websites raw access logs. |
| Error Log | Check the error log to help find errors with your website. |
Support Scripting & Software
| | |
| --- | --- |
| PHP/Zend Optimizer | Full support for PHP 4 & 5 scripting & Zend Encoded products. |
| SSI | Server Side Includes is supported. |
| ImageMagick | Image manipulation tool. [imagemagick.org] |
| GD2 | An ANSI C library for dynamic creation of images. |
We also provide cPanel Business web hosting plan for you to use when your shared cPanel hosting plan is limited.
Shared  vs. Business   vs. VPS cPanel Hosting
There are many different types of hosting for your business needs. Shared hosting is an inexpensive way to get your sites up on the web. A Virtual Private Server (VPS) costs more than shared hosting, and requires some experience with server administration. Business hosting is meant to be a balance between the two – offering the power of a VPS with the ease of shared hosting.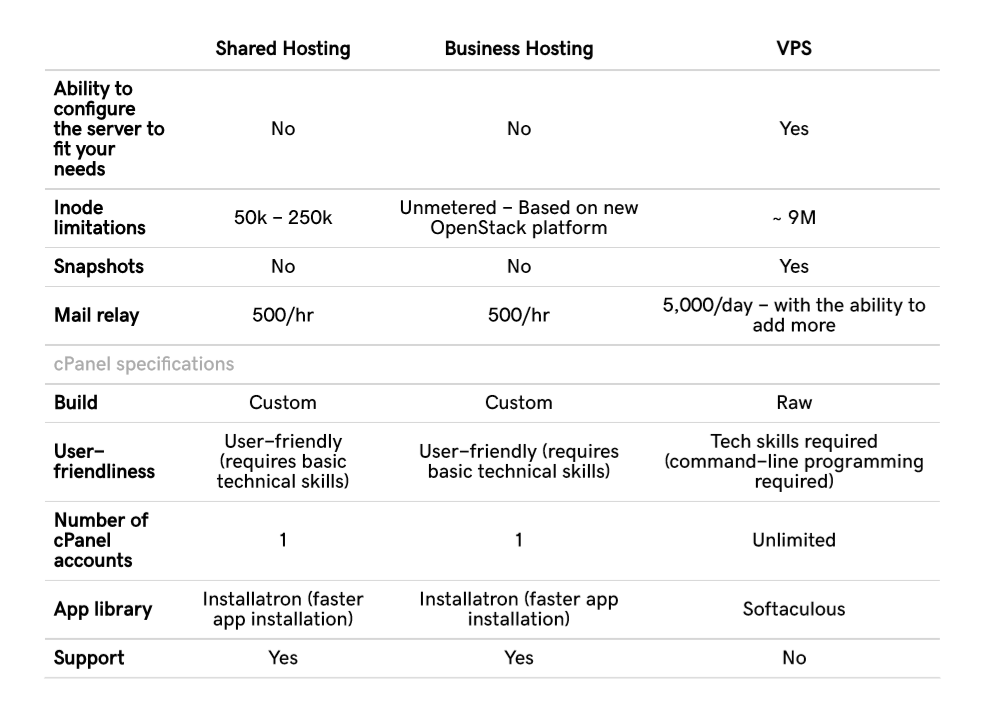 Why choose cPanel Business Hosting?
 Faster Load – Did you know that 57% of users will leave your site if it takes longer than 3 seconds to load? That's a lot of lost revenue. But with Business Hosting, your pages load faster than shared hosting, so more visitors convert to customers.
More Popular No Crushing – Even if you're not selling products or serving media, a tidal wave of visitors can crush an average shared hosting plan.  Business Hosting has the resources and support to make sure that hitting Reddit's front page is a time to celebrate, not panic.
Resource Heavy Websites Working Better – If you're hosting videos, photos or downloads, you'll feel right at home with Business Hosting. Unlike shared hosting, you don't have to share resources like CPU or RAM, so you get every ounce of power all to yourself.
Ultra fast – Dedicated resources. Up to 32 GB RAM. CDN performance accelerator. It all adds up to faster page load times than shared hosting.
Super simple – No technical skills required here. We've built our control panel for regular people who just happen to need ridiculously powerful hosting.
Fiercely secure  – In addition to multiple layers of server-level security, each of our plans include a free SSL Certificate to keep your visitors' data safe.
| | | | | |
| --- | --- | --- | --- | --- |
| Business Hosting Plan | Launch | Enhance | Grow | Expand |
| Websites | Unlimited | Unlimited | Unlimited | Unlimited |
| RAM (GB) | 2 | 2 | 6 | 8 |
| CPU | 1 | 2 | 3 | 4 |
| Storages (GB) | 60 | 90 | 120 | 150 |
| Unlimited | Unmetered | Unlimited | Unlimited | Unlimited |
| Email Accounts | Unlimited | Unlimited | Unlimited | Unlimited |
| MySQl | Unlimited | Unlimited | Unlimited | Unlimited |
| SSL | Free | Free | Free | Free |
| Month Fee | $29.99 | $49.99 | $69.99 | $99.99 |
| | | | | |
Which platform do I need? Cpanel web hosting or plesk web hosting ?
Choosing between Windows and Linux will depend on which application/software was used, or will be used, to build your site(s).
| | |
| --- | --- |
| cPanel web hosting | Plesk web hosting |
| MySQL database | MSSQL database |
| Customers can create MySQL databases quickly in cPanel | Customers can create |
| and connect to them remotely or import them through built | MSSQL databases |
| in tools like PHPMyAdmin. | quickly in Plesk. |
| Building Site | Building Site |
| HTML | ASP |
| PHP | ASP.NET |
cPanel web hosting FAQs
How does cPanel Hosting work?
Once you purchase a cPanel Hosting plan, we store your site on one of our servers and assigns it a unique DNS. The DNS serves as the address that allows people around the world to find and view your website. This unique address is required in order for people to view your site.
By purchasing a website hosting package, you're basically buying space on one of our servers. It's similar to the space on a computer's hard drive, but the server allows your website's files to be accessed from anywhere.
What can I use to build my website?
You can build your website in several different ways – from hand-coding with HTML to using a website builder program.
If you require a lot of functionality and versatility from your website, you'll benefit from programs and applications that can help you build your site. Our Web hosting plans give you access to free, server-side applications that can be used to develop and customize your website, including popular Content Management System (CMS) applications like WordPress® and Joomla!®.
We try to make building your website as simple as possible. If you prefer to use popular Web design software such as Adobe Dreamweaver, Microsoft Expression, and Apple iWeb, you can easily upload your files to your hosting account.
How do I transfer my web pages to your server?
If you've built your website in a HTML editor, like Dreamweaver or Microsoft Expression Studio, you have to upload your website files via FTP (File Transfer Protocol). We have a built-in FTP File Manager that you can access in our Hosting Control Center.
However, if your files are larger than 20 MB, we recommend using the tool FileZilla, which works with Windows, Mac, and Linux operating systems, or another third-party FTP client.
If I already have a website, can I transfer it to your cPanel web hosting?
Moving your website to us is a simple process. If you have access to your existing website files, you can upload them through our Hosting Control Center or via an FTP client. If you don't have a current copy of your website, you should be able to request one from your current website hosting provider.
Can I host multiple domain names with my Hosting account?
Our Deluxe and Ultimate plans can host multiple websites. You can also use these plans to set up various names (aliases) for your site and direct visitors to specific pages. With the Hosting Control Center, you can also change the primary domain on your account, remove domains or move them from your account to another.
[ultimate-faqs include_category=cpanel-hosting]
| | | | | |
| --- | --- | --- | --- | --- |
| Cpanel Hosting Plan | Starter | Economy | Deluxe | Ultimate |
| | | | | |