Search for your domain name
.COM Domain Name Only $11.99 with 
We register more than 600 TLDs, are the cheapest domain register. .com $11.99. All the domains we can register for you



Domain Pricing Per Year
Popular
1 yr
Transfer
Europe
1 yr
Asia
1 yr
.com*

$11.99

$11.99

.ai

$89.99

.in

$11.99

.co*

$38.99

$38.99
.eu
$9.99
co.in
$8.99
.info*

$20.99

$20.99
.de
$17.99
.net.in
$8.99
.net*
$12.99
$12.99
.es
$14.99
.org.in
$8.99
.org*

$13.99

$13.49

.it

$14.99

.jp

$99.99

.ca
$12.99
$12.99
.fr
$19.99
.tw
$34.99
.me
$24.99
$24.99
.nl
$14.99
.tk
$9.99
.biz*

$18.99

$18.99
.be
$17.49
.nu
$14.99
.mobi*

$33.99

$33.99
.co.uk
$9.99
.fm
$69.99
.us

$12.99

$12.99

.me.uk

$9.99

.co.nz
$69.99
.cc
$11.99
$11.99
.org.uk
$9.99
.tc
$34.95
.ws
$37.99
$37.99
.se
$26.99
.ms
$34.95
.asia*
$16.99
$16.99
.mx
$34.99
.vegas
$69.99
.tv*
$39.99
$39.99
.gs
$34.99
.io
$59.99
.xxx
$149.99
$149.99
.xyz
$10.99
.online
$49.99
.club
$15.99
$15.99
.today
$24.99
.solutions
$24.99
.life
$32.99
$32.99
.company
$9.99
.rock
$14.99
.la
$39.99
$39.99
.guru
$39.99
.directory
$24.99
.news
$41.99
$41.99
.cloud
$14.99
.photography
$24.99
.tips
$45.99
$45.99
.world
$39.99
.website
$29.99
.space
$37.99
$37.99
.email
$24.99
.store
$79.99

 
The Cheapest Cpanel Hosting
We also have a starter cpanel web hosting plan for beginner website. 1 Website, 30GB Storage, Unlimited Bandwidth only $2.99/mo.
You can click Start Cpanel Hosting Plan Starter hosting plan support all cpanel hosting features.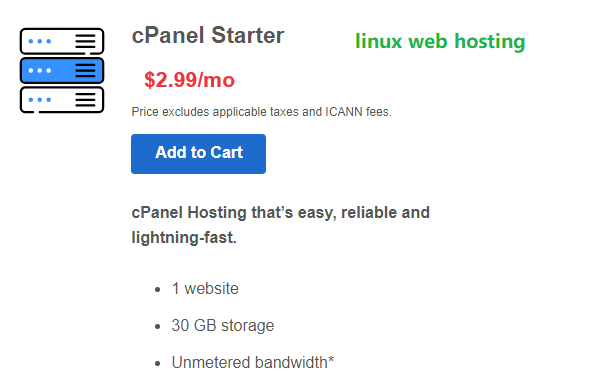 The Cheapest Managed WordPress Web Hosting
Maintaining a website shouldn't mean spending hours optimizing your server and battling security threats. With Managed WordPress, we handle the technical stuff for you – server setup, security, backups, even performance optimization – so you can spend your time designing, managing content and doing what's important to you.
Managed WordPress hosting is a concierge service where all technical aspects of running WordPress is managed by the host. This includes anit-hacker, keep spammers away, security, speed, WordPress updates, daily backups, website up-time, and scan for virus and malware. Managed WordPress Hosting is to provide all WordPress Based webmasters a complete hassle-free experience, so webmasters can focus on running their business websites and do SEO, contacting their customers, make their website high ranked, socialize their websites in facebook, twitter, and other social media websites, and do what they want to do but worrying about their website security.
Our WordPress Hosting provides automatic setup, backups and software updates paired with 24/7, award-winning support. Get started in just a few clicks.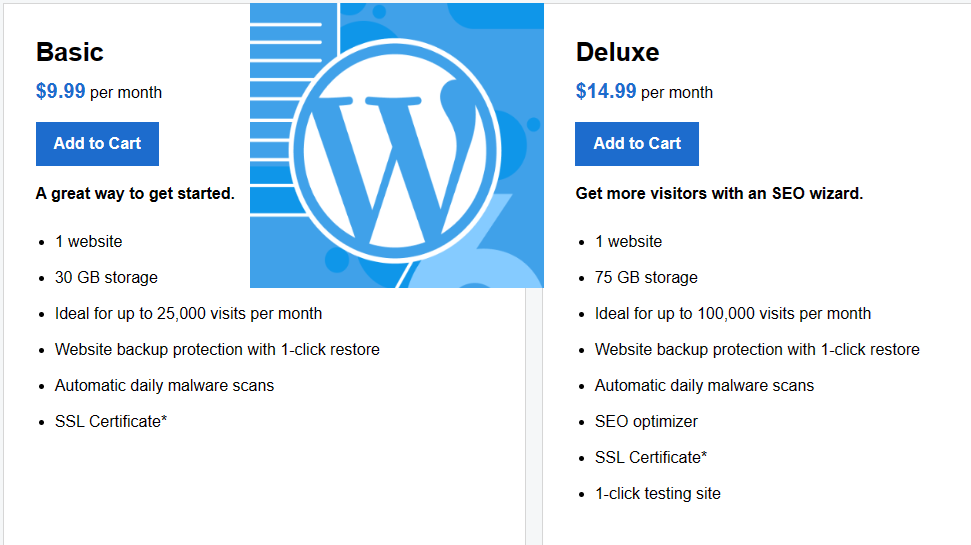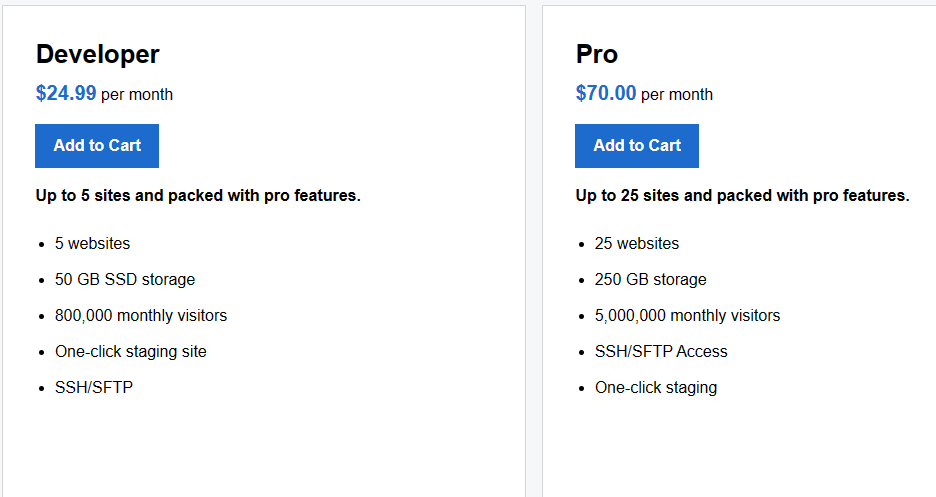 We Provide Five Basic Types of Hosting
Managed WordPress Hosting – This is the most popular web hosting we provide. Your websites have no chance to be hackered, and you have the best and the fastest websites and easily designed.
Web hosting (Shared) – Shared web hosting service refers to a web hosting service where many websites reside on one web server connected to the Internet. This is generally the most economical option for hosting, as the overall cost of server maintenance is amortized over many customers. We provide Cpanel Shared Linux Web Hosting from $2.99/mo. We are the cheapest shared web hosting provider.
VPS Web Hosting Service – If shared web hosting is like an apartment complex, VPS is more like a townhome. You'll enjoy upgraded resources AND you'll be sharing them with much fewer people. This gives you more power, flexibility and control. We provide the cheapest Linux VPS hosting with Cpanel/WHM and Plesk as control panel from $30.99/mo.
Web Hosting Plus – This is for the guys who have no technical skills and VPS is not suitable for them. gives you the ultra-fast speed of a Virtual Private Server with a super simple control panel — a perfect fit for those who don't have tech skills but still need powerful hosting. All plans include one-click install, 99.9% uptime, 24/7 security monitoring, daily backups, and an easy-to-use control panel.
Dedicated Server – This is exactly what it sounds like – a single-tenant virtual machine that's dedicated to you and you alone – which makes it the ultra-modern single family home in our analogy. It's the most costly option, but only high-traffic, resource-intensive websites really need it. Get full control with root access while enjoying powerful bare metal servers and flexible SSD or HDD storage configurations. You must have your own administrator to run your dedicated server.
We are the cheapest domain name Register
.COM Domain Name Only $11.99
We are the cheapest domain name register. You can register your .com domain name at only $8.99/yr here in powerhoster domain. We have been online since 2001, and we are among the oldest domain name register and domain hosting and web hosting providers. At Powerhoster.com – We provide Cheap Domain Registration, and Cheap Domain Hosting Services. We develop, run, maintain and support our Linux and Windows domain hosting plans in our own facilities, 24/7.  Our web hosting plans are the cheapest, our management team is one of the most professional teams and our support teams are the most effective. We have all the features you can imagine and need – Cpanel Web Hosting, Plesk Hosting, Managed WordPress Hosting, WordPress, Website Builder, Quick Shopping Cart, SSL, Email, Database and Blogging, just to name a few. No other web hosting service can match the width and depth of our feature set, which is one of the reasons why we are such a prominent player in the industry. We provide the cheapest Cloud Web Hosting, the cheapest Linux Cpanel web hosting, Unlimited Window Plesk hosting and the cheapest Domain Registration service.
Cheap Domain Name Registration
A good domain register can give you a good domain manager control panel, can provide DNS freely. We can provide you default DNS. The default DNS includes both Park DNS and Hosting DNS, you can also assign your third Party DNS. It is very easy to change. When you set your DNS to our default DNS, you can manage your DNS and set alias, or add an A record very easily to other IP address. You can also make a domain forwarding very easily.
You can also transfer to another account of powerhoster; or transfer away from powerhoster account very easily. You can get your authentication by just a link clicking.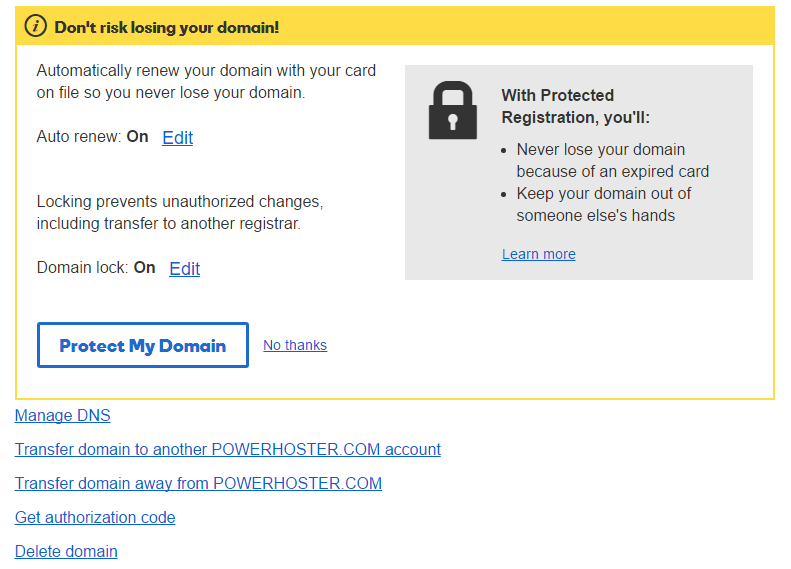 You can lock your domain, auto-renew your domain or manually renew your domain, and privacy protect your domain or not protecting your domain by just a link clicking. Best of all, you can get all this features by just a cheap domain buying. We can also set your free email accounts if you are registering your domains with us.
Buy the Cheapest cPanel Web Hosting 
Take charge with industry-standard cPanel control panels, free 24/7 phone or online support and 99.9% uptime* and money-back guarantees*. With our award-winning data center, you'll know your site is always up and running.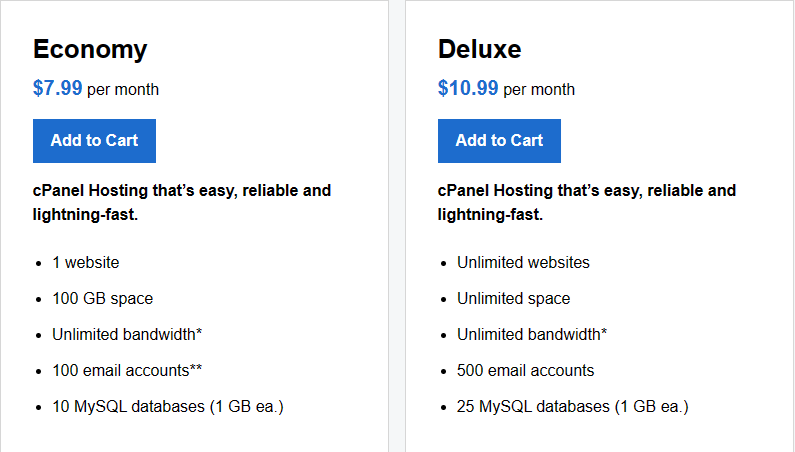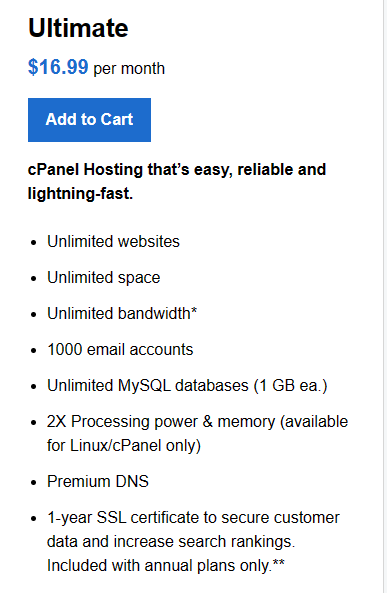 Cheap Domain Name Registration And Cheap Web Hosting Service
A domain name is an identification string that defines a realm of administrative autonomy, authority or control within the Internet. Domain names are formed by the rules and procedures of the Domain Name System (DNS). Any name registered in the DNS is a domain name. Domain names are used in various networking contexts and application-specific naming and addressing purposes. You probably have hundreds of domain names stored in your head, such as:
powerhoster.com — our favorite domain name
google.com — one of the most used domain names in the world
mit.edu — a popular EDU name
bbc.co.uk — a three-part domain name using the country code UK
You'll recognize domain names as having strings of characters separated by dots (periods). The last word in a domain name represents a top-level domain. These top-level domains are controlled by the IANA in what's called the Root Zone Database, which we'll examine more closely later.
In general, a domain name represents an Internet Protocol (IP) resource, such as a personal computer used to access the Internet, a server computer hosting a web site, or the web site itself or any other service communicated via the Internet. In 2015, 294 million domain names had been registered.
Domain names are used to identify one or more IP addresses. For example, the domain name microsoft.com represents about a dozen IP addresses. Domain names are used in URLs to identify particular Web pages. For example, in the URL https://powerhoster.com/index.html, the domain name is powerhoster.com.
A domain name is an identification string that defines a realm of administrative autonomy, authority or control within the Internet. Domain names are formed by the rules and procedures of the Domain Name System (DNS). Any name registered in the DNS is a domain name. Domain names are used in various networking contexts and application-specific naming and addressing purposes. In general, a domain name represents an Internet Protocol (IP) resource, such as a personal computer used to access the Internet, a server computer hosting a web site, or the web site itself or any other service communicated via the Internet. In 2015, 294 million domain names had been registered.
Every domain name has a suffix that indicates which top level domain (TLD) it belongs to. There are only a limited number of such domains. For example:
Because the Internet is based on IP addresses, not domain names, every Web server requires a Domain Name System (DNS) server to translate domain names into IP addresses.
Because all of the names in a given domain need to be unique, there has to be some way to control the list and makes sure no duplicates arise. That's where registrars come in. A registrar is an authority that can assign domain names directly under one or more top-level domains and register them with InterNIC, a service of ICANN, which enforces uniqueness of domain names across the Internet. Each domain registration becomes part of a central domain registration database known as the whois database. Network Solutions, Inc. (NSI) was one of the first registrars, and today companies like PowerHoster.com offer domain registration in addition to many other Web site and domain management services.
Right now, We can register Hundreds of TLDs. We can register popular domain names, international domain names, and regional domain names and country domain names.
Domain Names work by linking with a DNS ( Domain Name Servers),  The DNS searches for the root DNS and local DNS to find the best way to your domain name. If you want to see how domain name work, please click here. With PowerHoster, you're guaranteed to find the perfect domain name that will help you bring your business success. A variety of domains are available to be registered quickly and easily, and at the best prices.  Millions of satisfied customers and over four million registered domain names speak for themselves!
What is cheap domain names ?
When you google "Cheap Domain Name" or "What is cheapest domain names ?" in google, you will get more than nine millions results. That is not true. You can not register a .com domain name at less than 10USD in most of domain registers. Prices for domain names vary among different registrars and hosting companies. The normal cost is in the range of $12 to $15 per year for the .com domain. Other gTLDs such as .net or .org may be less or more expensive. Specialty dTLDs such as .guru, can run as high as $100 a year.
But you can register .com in $8.99 here in powerhoster, a reputable domain register. When a domain register can provide less than 10USD .com domain registration, it should be called cheap domain name register. YES, it is true. We are proudly called "Cheap Domain Register". Normally you can not buy a .com domain name at less than $10USD in almost all offshore domain register. But they still call themselves cheap domain register. Some US licensed domain registers make a $39.99 .com domain name registration for two years and only charge first year $0.99, its registration fee per year is $20/yr (Shame on them). It cannot be called cheap domain register. We are US licensed and US operated domain register and we can allow you to easily and effectively administer and manage your domain name. We have set up more than 20 years and have well-established reputation.
You can search and register your domain name now:


When you have a domain name, you can promote your local business, you can protect your trademark, you can also earn money by selling customer products, and you can even earn money from online domain name and websites. We are especially good at helping our customer earn money online and helping you sell products via online domain names and websites. We have search engine optimization tools to help you get your desired results. We even provide free web hosting if you use our shopping carts features and website builder service. And as a bonus, you can get free domain names when you order one year virtual web hosting, Managed WordPress hosting, website builder and other packages on our plans list.
You can Register, Renew, and Transfer your Cheap Domain Names, as well as domain back ordering, registering domain privacy and businesses, and sitelocking here. You can also buy Dedicated IPs, Website builder, reliable WordPress hosting with thousands of free themes to chose and free plugins. You can register almost all kinds of TLDs domain here. We can register up to 600 TLDs. And YES, we are the cheapest domain registration service provider.
Cheap Web Hosting
If  you are familiar with setting up a web hosting environment, want to host multiple domains, want more databases, emails and not eager to secure your WordPress website You can use a cPanel hosting account. It's easy to install WP on web hosting (just a click), but interacting with a control panel (cPanel) can be intimidating. With cPanel, you can manage the domain, DNS, setup, backups, speed optimization, security, log files – all through the control panel. If you are more concern about your speed, your up-time, your security, and less time on software and security,  you need a managed WordPress hosting account.  MWP handles the setup and launches you directly into WP-admin to start building your site – no confusing extra control panel to deal with. If your website need huge traffic, you need a managed WordPress hosting.
cPanel – Access all the hosting features and settings you need with this industry-standard control panel.
CloudLinux – Keep your site online with truly balanced CPU, RAM and Disk IO limits.
Resources On-Demand – If you need more power, you can level up your CPU, RAM, Entry Processes and I/O with just a click.
CageFS – Protect your Web content 24/7 with this virtualized file system
MySQL – Create rich database content with industry standard open source tools.
Free Applications – Instantly install over 200 applications on your website with just a few clicks.
Award-Winning Security – It's hard to believe anyone would want to harm your porcelain figurines website, but they do. Thankfully, our security team is on the job 24/7 to meticulously monitor, thwart suspicious activity and deflect DDoS attacks.
1-Click Setup – Get your website up and running quickly.
Ultimate Hosting Plan – Get more for your money and choose the Ultimate Plan! 2X Processing Power & Memory, 1 year Standard SSL Certificate.
Backup and Restore – Daily automated backups are available via cPanel. If you need to restore your site, you can revert back to a previous locally-stored version.
You can build your website in several different ways – from hand-coding with HTML to using a website builder program.
If you require a lot of functionality and versatility from your website, you'll benefit from programs and applications that can help you build your site. Our Web hosting plans give you access to free, server-side applications that can be used to develop and customize your website, including popular Content Management System (CMS) applications like WordPress® and Joomla!®.
We try to make building your website as simple as possible. If you prefer to use popular Web design software such as Adobe Dreamweaver, Microsoft Expression, and Apple iWeb, you can easily upload your files to your hosting account.
Moving your website to us is a simple process. If you have access to your existing website files, you can upload them through our Hosting Control Center or via an FTP client. If you don't have a current copy of your website, you should be able to request one from your current website hosting provider.
If you've built your website in a HTML editor, like Dreamweaver or Microsoft Expression Studio, you have to upload your website files via FTP (File Transfer Protocol). We have a built-in FTP File Manager that you can access in our Hosting Control Center.
However, if your files are larger than 20 MB, we recommend using the tool FileZilla, which works with Windows, Mac, and Linux operating systems, or another third-party FTP client.
Our Deluxe and Ultimate plans can host multiple websites. You can also use these plans to set up various names (aliases) for your site and direct visitors to specific pages. With the Hosting Control Center, you can also change the primary domain on your account, remove domains or move them from your account to another.