Almost all web hosting providers are providing WordPress Hosting. What we suggest you are to find the affordable web hosting providers not cheap domain name providers.
Find an Affordable Shared cPanel Hosting
If you are starting a Personnel WordPress blog and you're shopping for a hosting service, my advice would be to get a shared hosting plan which is not only inexpensive but is also perfect for a new WordPress blog. But If you are starting a business WordPress website, I suggest you chose a managed WordPress Hosting Plan.

There are hundreds of shared web hosting plan comparison websites and top web hosting reviews websites there. Almost all of them are affiliates of all web hosting providers and the reviews are fake and even reviews are given by the web hosting providers. If you are advertising member of cj, linkshare, Pepperjam Network, or some other affiliate network, you will know how the web hosting merchants list their tracking codes, banners, and even user reviews for their affiliates to publish in their affiliate websites. In my opinion, do not trust any of the review websites.

If you are newbie, and begin a new blog website, please donot trust cheap $1 or $2 web hosting provider for unlimited web hosting services. The cost is there, if you think they can provide $1 web hosting, all big web hosting provider can provide it. The only difference is that the cheap web hosting providers can place several hundreds of websites even thousands of websites into a single server but affordable web hosting provider will not do that. Most web hosting companies guarantee 99.9% Server uptime but in reality a lot of them do not deliver 99.9% server uptime that they guarantee. Most of the time you won't even know that your site was down and you lost customers. None of your visitors complained doesn't really mean that your site was up 100% that month.
For me myself, I host my websites in a lot of web hosting providers from 2003. I hosted my websites in godaddy, in network solutions, arvixe, web hosting buzz, budget web hosting, ukhost, ixwebhosting, hostripples, seohosting, and a lot of web hosting providers. The worst web hosting provider is a bad company arv* that could throw down my website because of a complaint that a user post a topic which has a link to another url. Another worst experience is that my websites are down for several days and I have to call to take my website up. Normally it happens when I host my websites in a cheap web hosting provider.
When you host your WordPress websites as a newbie, I suggest you go to a cPanel web hosting provider. It is very easy to install your WordPress website by Cpanel Web hosting . Our shared Web hosting plan is very good for beginner WordPress Hosting blog and Business WordPress Blog.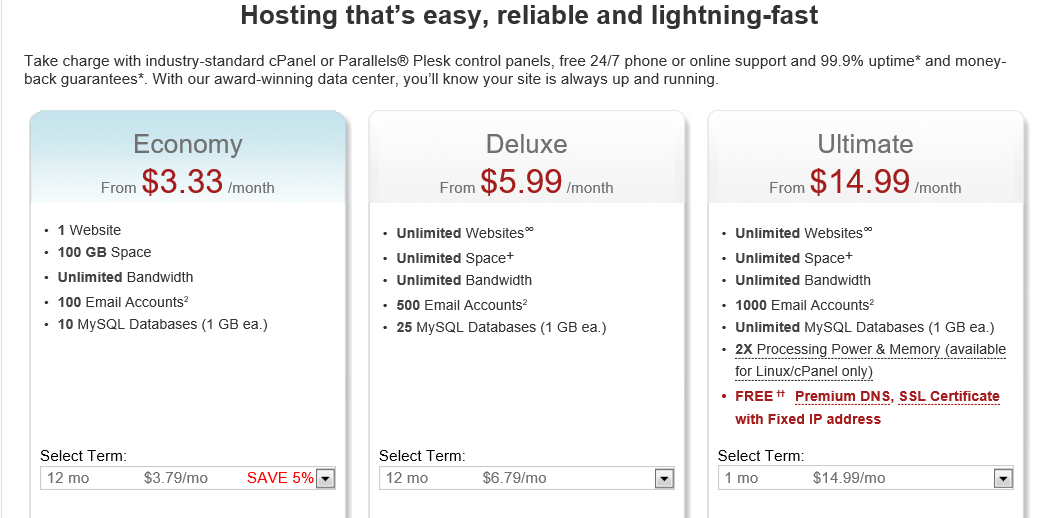 You can host almost unlimited websites using our Deluxe cPanel Hosting Plan. We have Standard Web Hosting plan which can host unlimited web space and unlimited bandwidth at only $3.33/m. Unlimited website and Unlimited web space, Unlimited Bandwidth only Needs $5.99 per month. Most important, We provide you almost 99.99% uptime guarantee. Even though, I suggest you use Managed WordPress Hosting services when you begin to run a successful CMS website or successful Business Website.
Find a Repliable Managed WordPress Hosting
Managed WordPress hosting is a concierge service where all technical aspects of running WordPress is managed by the host. This includes anit-hacker, keep spammers away, security, speed, WordPress updates, daily backups, website up-time, and scan for virus and malware. Managed WordPress Hosting is to provide all WordPress Based webmasters a complete hassle-free experience, so webmasters can focus on running their business websites and do SEO, contacting their customers, make their website high ranked, socialize their websites in facebook, twitter, and other social media websites, and do what they want to do but worrying about their website security. This is especially important because so many WordPress websites are hacker-ed every year.
What is the Benefits of Managed WordPress Hosting ?
The benefits of Managed WordPress Hosting is known to almost all WordPress webmasters. The benefits include:
Free Premium Plugins – We provides a lot of free plugins for our Managed WordPress Websites;
Free Premium Themes – We provide thousands of free themes for our Managed WordPress Websites;
Blacklisted Plugins and themes – We have our own database of blacklisted plugins and themes and keep updating our database;
Backup and Restore – We provide daily backup, nightly backup and one click restore;
Redundant firewalls, malware scanning and DDoS protection – We will scan your site periodically for malware and offer advanced security features that prevent hackers from accessing your site at all (these features vary among providers). In the event malware does weasel its way into your website, many hosts will remove it for no additional charge.
Faster speeds: Our Premium WordPress Hosting Platform make your website super faster. Built specifically for WordPress to optimize the speed, reliability and security of your site. Cloud Hosting Servers were configured and speed up load times for WordPress. We have own own built-in caching and make your websites super faster, so you don't have to install your own caching plugins.
Comprehensive support: Customer support techs will know WordPress inside and out. You can ask them WordPress questions in addition to more general hosting-related questions.
Automatic WordPress Core Updates We will update your WordPress core automatically.
Temporary website address – Each plan includes a free domain, but if you're not ready to choose your name, you can use a temporary domain to set up your account and register your official domain later.
One-click SSL installation WordPress is pushing their user to move to SSL. So we make our Managed WordPress Websites install SSL super easy.
In Managed WordPress Web Hosting Comparison Diagram in powerhoster managed WordPress Hosting page, we have listed the difference of our managed WordPress hosting services and WP Engine, Pagely Persional, Dream Host Managed WordPress Hosting service, you can check yourself and find our Manged WordPress Hosting is the best and the Cheapest. Remember, we have almost 100% uptime guarantee if you choose Managed WordPress Hosting services.We can guarantee your 25,000 Visits at very cheap prices $5.59/m, and others may charge you dozens of USD. Some Managed WordPress Hosting even do not provide you security guarantee.