Search Engine Optimization (SEO) is expounded with several techniques to achieve ranking for your website and web page. Hidden texts and links are one among the old, unethical and a black hat SEO technique to achieve a high ranking position within the search engine result pages (SERPs) by violating Google rules and regulations.
On the earlier days, Hidden texts associated links was an aggressive strategy in which you may hide texts on web content to achieve ranking for a few keywords which aren't visible within the web content, however, is crawled by the search engine bots.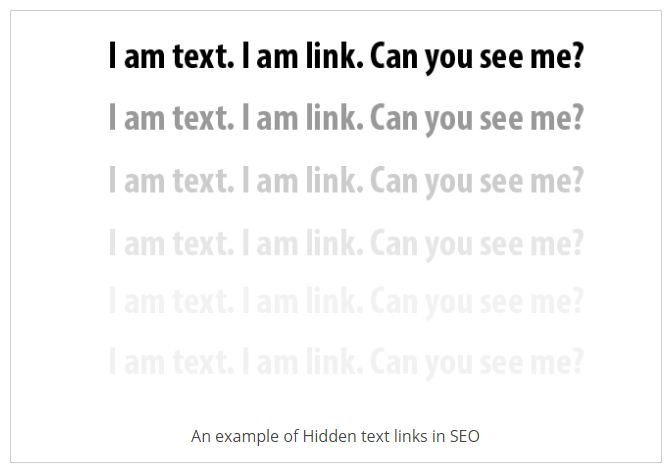 Search engine robots do not read web pages the same as human visitors. While human visitors will see a web page's design, images, and text, search engines only read the HTML source code. To obtain the intended benefits, then, website owners only need to show search engine robots the keyword-focused text, even if human visitors cannot see it.
Website owners achieve this goal in a number of ways. Text can be added as 'alt' or 'title' attributes within HTML tags, or it can be added to the page by using CSS to hide the text within a HTML div tag. Also, sometimes hidden text is added by way of obfuscation whereby the website owner changes the font color of keyword-focused text to match a web page's background.
HIDDEN TEXT Techniques:
Using the Same Background Color.
Using the Same Link Color as Background.
Using the Same Background Image Color as Text.
Using Cascading Style Sheets.
Hidden Visibility in CSS.
Hiding Text With Z-index Layers.
CSS Absolute Position Class.
Consequences for using Hidden texts and links techniques:
Hidden texts associated links is a black hat SEO technique that is outdated and an unethical method and it is the way to cheat the search engine. For achieving a high ranking position within the SERPs, you must improve the quality of content, the site's usability and create back links. However, if you employ this method nowadays, your website might get penalized from Google or might even get banned by the search engines.
Some techniques are leading websites into misguidance by violating Google Webmaster Guidelines including:
Using white text on a white background.
Locating text behind an image.
Using CSS to position text off-screen.
Setting the font size to "Zero"(0).
Hiding a link by only linking one small character—for example, a hyphen in the middle of a paragraph.