Linux is an operating system just like Windows 5, Windows XP, Windows 7, Windows 8, Window 10, and Mac OS X. An operating system is software that manages all of the hardware resources associated with your desktop or laptop. To put it simply – the operating system manages the communication between your software and your hardware. Without the operating system (often referred to as the "OS"), the software wouldn't function. You can install Linux on as many computers as you like without paying a cent for software or server licensing.
Linux OP is much easier to manage. When the server requires restarting, re-configuring, upgrading, etc…most likely the rest of the server won't be affected. It is also very easy to install the software in linux system using wget and install command.
Linux Servers Are More Affordable
You may be aware of the global WannaCrypt ransomware attack that has featured in the news and has infected millions of systems worldwide, paralyzing many organisations. The vulnerability being exploited is found in the Windows operating system only and as a result Linux servers are not vulnerable.Linux is an open source operating system. It can be installed for any purpose free of charge. It can also be used in old servers for a long time.
The same is true for three key pieces of software needed to serve a website:
Apache, Linux's leading Web server application
MySQL, the most prominent database application
PHP, the most popular scripting language
Large hosting providers want to make use of Linux because there are no licensing costs to cover, so they can drop prices and aim for bigger profits. The only thing that needs to be paid for is the control panel tool. Control Panel is normally provided by some commercial company for webmasters to manage their website easily.
Linux can't do everything customers need it to do. Applications written in Windows-only languages like .NET or ASP must be run from a Windows server. There's no getting around it. Windows servers can run pretty much anything that a Linux server can run. That makes it a good all-rounder.
If you've already decided you need a hosting account, you might get slipped up when you get asked, "Linux or Windows?" Fortunately, there isn't a big difference between them and either type of account works for most customers.
A lot of articles may tell you window web hosting is more expensive, but here at powerhoster.com, We provide the window web hosting and linux web hosting at the same prices. All our window servers are updated and not any risk of attack. You can chose any web hosting platform you want, just consider your application. To make sure you do get the right type of account, though, you should choose the type of hosting account you want based on how you're building your site.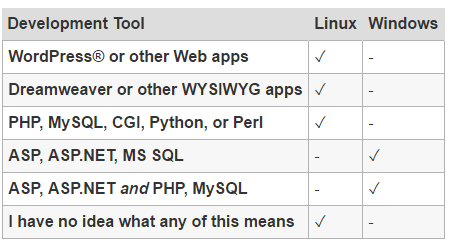 For Linux web hosting Control Panel, We are provide CPANEL/WHM control panel at this time. For Window Web hosting control panel, we provide Plesk control panel.
If you still cannot decide which hosting account to use, I suggest you use linux cpanel/whm web hosting platform because so many web hosting providers are providing linux cpanel/whm web hosting service, and you can set up your website in different web hosting company to do your SEO website promotion.